About Incheon
About Incheon

Incheon is the fastest gateway to enter Korea. As both sky and sea routes and widely open the city have positioned itself as a professional hub. Incheon International Airport, as the 7th largest airport in passenger transfer, connects 186 cities in the world. Incheon is a beautiful port city in Korea that best exemplifies the attractive balance between a long, rich heritage of dynasties and a recently developed modern culture. Incheon is rapidly developing into a city of modern culture. It already completed the construction of various industrial and logistics complexes and urbanized the Songdo Business District.
Learn More
Eco-friendly environment
There are a total of 168 islands in Incheon, ranging from the largest, Ganghwa Island (293 km2) to the smallest, Modo Island (810 m2). The islands are popular with tourists who enjoy cycling, camping, and backpacking along with white sandy beaches surrounded by forests. One of Island, Daeijakdo Island, is the only island designated as a marine ecosystem conservation area in Incheon. Shoal is a mysterious sandy island that is submerged during high tide and exposed during low tide. It is also referred to as 'whale shoal' since the sand island rising above the wide sea and disappearing like a submarine resembles a whale.
Historical and Cultural Heritages
Incheon's island is located at the mouth of the Hangang River, which links Seoul with the West Sea. Because of its location, it was a site of great military and geographic importance. So, Ganghwa was located at the center of Korean history, and it has still many historical and cultural heritages, thereby being called as the roofless museum. It can be said that the history of Ganghwa is just history of Korean people, ranging from the dolmen of prehistoric times designated as the UNESCO World Heritage. It feels like time travel where the past, present and future coexist.
Urban Parks and Cityscape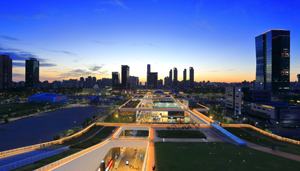 The cityscape is modern and beautiful. The eye-catching architecture creates a sophisticated urban atmosphere, and the parks give the city a fresh color. It is good for a walk along the trail surrounding the waterway, and at night you can enjoy the wonderful night view of Songdo International City surrounded by skyscrapers. In the water park, which is the first in Korea created by pumping water from the sea, water taxis are operated and various water leisure activities such as boats, kayaks, and canoes can be experienced. Songdo international city park shows an "exotic" landscape due to the harmony of traditional Korean-style houses and skyscrapers.